Translated by Mie Engsholt, Student Entrepreneurship, AAU CPH
Camilla, Mathias, Aishah and Ademir were friends when studying medialogy, and during their 9th semester, they were all interning at The National Film School of Denmark, where they helped the school's director-students with productions. It was during the internship that the idea started to take shape and was developed further during their thesis. Camilla says:
"When we were writing our thesis, we needed to present what our motivation for the project was. We talked about what we wanted to work with and what sort of job we wanted after graduation. We were all a bit uncertain as we wanted a job that was flexible, where you could still play around with the technology, but where do you find that sort of job? For a while, Mathias had been thinking about starting a small motion capture studio and asked us if we wanted to join and of course, we said yes. Since then, the idea has been developed and refined.
FRom idea to company
Camilla, Mathias, Aishah and Ademir discussed the idea further, did research and discussed expectations, after which they presented their idea for their thesis supervisor. Camilla says:
"Our thesis supervisor, Henrik Schønau Fog, helped us along and talked to us about how to structure the company etc. He has helped us a lot – also in terms of contacts in the film industry and potential jobs. Among other things, we assisted Henrik with planning and executing of the ViZARTS conference where we met a lot of people who was also interested in the use of new technology in the film industry".
These four young people continue helping with the planning and execution of the conference in order to expand their network with new contacts.
AAU INKUBATOR
Besides expanding their network within the film industry, Camilla, Mathias, Aishah and Ademir became part of the AAU Incubator. On this, Camilla says:
"We became part of the AAU Incubator to get more guidance and help starting the company. Here, we got, and are still getting, a lot of feedback on our idea, and it is a place that we can reach out to, to get help with everything that has to do with the company; legal questions, contracts and much more".
An educational journey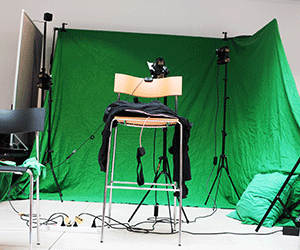 AMUNET Studio became a reality, and the company specializes in in pre-visualization, virtual production, motion capture and in making media technology experiences by using real-time engines such as Unity and Unreal engine. The founders describe the process of establishing a company as very special:
"Even though a few of us were considering starting a company, none of us had imagined that it would have become a reality as fast as it has. The journey to here has not been perfect but when "the old" say that all experience is good experience, they know what they are talking about. Often, we were categorized as "the students" and therefore had to take up some fights".
Camilla, Mathias, Aishah and Ademir would not change anything about the process, as it has been educational due to what they have encountered along the way. They are happy about the flexible days and work tasks.
Not like everybody else
AMUNET Studio works on their productions in a completely different way than traditional production companies in the film industry. In that connection, they find their competencies from AAU very useful:
"The things we work on and develop, is things that we learned during our education. Most of it is parts of different classes and projects that we combine in order to make it work. Most useful to us, is the problem based learning. It is important to us, that we can manage problems on the spot when they occur and quickly can find a solution, and that is something we have definitely learned in the medialogy programme".
fRONT RUNNERS IN THE BUSINESS
Breaking the traditional working methods within the film industry will, according to Camilla, have an effect for AMUNET Studios position moving forward:
"Every day, technology reaches new heights, which gives the opportunity to optimize the man existing working methods whereby the Danish production level is raised at that point. AMUNET Studio will therefore be a front runner production house when using these specific technologies in a production context".
GOOD ADVICE
Camilla, Mathias, Aishah and Ademir had a great idea and made it into a company. Here, they have given some good advice for you who wish to do the same:
"If you have a burning desire to start something, then do it! It will not be easy, it is really hard – you will work on your company all the time, and you will question if there is light at the end tunnel. However, there is! Keep fighting for it, ask for help when you can, because when you see the light, it is the most best feeling ever. Now, is when you have the time!"

ABOUT AMUNET STUDIO
Founders: Camilla Mødekjær (26), Mathias Ramsø Thomsen (28), Aishah Hussain (25) and Ademir Pašalić (26)
Education programme: Medialogy
Graduation year: 2019
Read more about your opportunities working with entrepreneurship at www.se.aau.dk/student.