The recruitment analysis 2021 has just been published with fresh figures directly from the companies.
Be aware that the analysis is in Danish. Therefore, use e.g. Google Translate when you look into it.
You can e.g. use the Recruitment Analysis to:
Find out what companies prioritise and emphasise when hiring
Customise your unsolicited job search, LinkedIn, etc., so that you spend your time and effort in the areas where you get the most out of it
Become aware of your behaviour at the job interview
This year, the Recruitment Analysis has focused on:
Popular recruitment channels
Attractive competencies in the future
LinkedIn in the recruitment process
3 selected conclusions in the Recruitment Analysis 2021: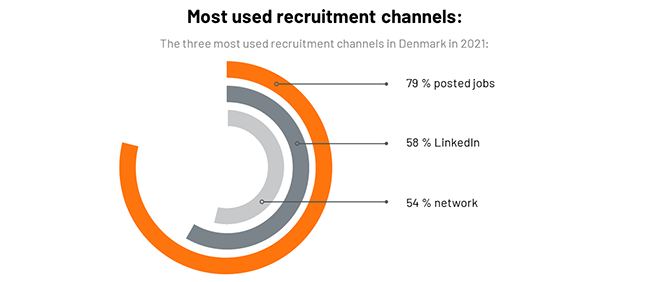 About the background for the analysis:
The questionnaire, which forms the basis for the Recruitment Analysis 2021, was sent to 2251 Danish companies in May 2021. 1055 companies have answered, so the response rate is 47%.
70.8% of the answers come from private companies.