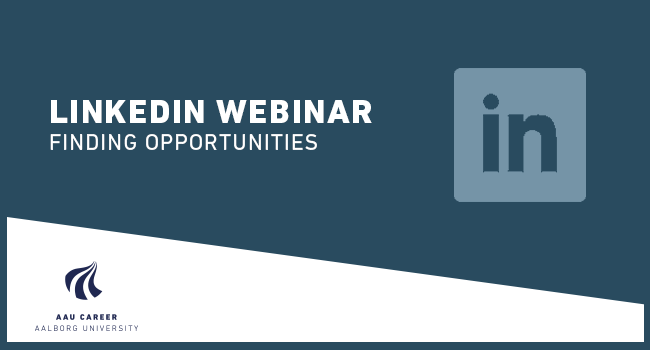 Webinar: LinkedIn - Finding opportunities (Spring 2020)
For all students at AAU
Time
30.04.2020 kl. 13.00 - 15.00
Description
How can you use LinkedIn during your studies to find relevant opportunities for collaboration? This is what we will look into at this webinar.
You can use this knowledge to find students jobs, internships, semester collaboration and jobs both in Denmark and worldwide.
The search parameters that we will work with is closely linked to your personal profile, but the webinar will not be about how to build the profile. For info about how to build our profile, attend your webinar 18 February or use our LinkedIn guide in Danish or English.
You will gain knowledge about:
Different search tools and techniques on LinkedIn
How to do both simple and advanced (Boolean) searches
How to find profiles similar to yours to get inspiration on their career paths
How to use LinkedIn to find solicited and unsolicited jobs
How a good search strategy can help you improve your personal profile further.

The webinar is relevant for you if:
You are a student at Aalborg University - regardless of study or campus
You already have a profile on LinkedIn, but want to improve your skills on reaching out and utilising the potential of the platform
You are uncertain about how to expand your network on LinkedIn
You find that everyone talks about LinkedIn, but are still unsure about how to use the platform
Important if you are interested in attending:
Please make sure to create a LinkedIn profile in advance
Make sure you are attending from a location with a decent internet connection – and preferably attend via your laptop and not a mobile device
The link to the webinar will be sent to you in the confirmation email that you will receive after signing up.

Questions?
Please contact André Bjørn Nielsen abni@adm.aau.dk
Price
Free
Host
AAU Career
Address
Online - Link to the webinar will be sent by mail
Registration Deadline
27.04.2020 kl. 09.00