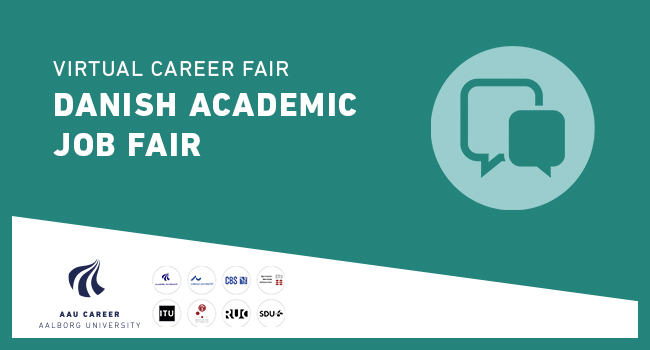 Virtual career fair: Danish Academic Job Fair 2020
For students at AAU about to graduate in 2020
Time
16.06.2020 kl. 13.00 - 15.00
Description
Are you graduating this summer? Then this virtual career fair is for you! Here you can meet more than 100 companies. Employers from across different industries are participating and they have all brought in job opportunities for you.
The job market is affected this year. But there are still many job opportunities out there - and we do what we can to get you in touch with the companies and organisations that are currently hiring.
There are both public and private employers, both Danish and international.
This virtual career fair is held in collaboration between all Danish universities and Graduateland.
What is a Virtual Career Fair?
A virtual career fair gives you the chance to chat about future job opportunities with different employers. Wherever you are - whether you use your computer, tablet or mobile - you can join. All you have to do is log in and start your chats with the companies.
Read about how to prepare and get the most out of a virtual career fair

Questions?
Kontakt venligst Trine Nordal Borglum tnob@adm.aau.dk
Host
AAU Career in collaboration with AU, CBS, DTU, ITU, KU, RUC, SDU and Graduateland.