First steps: Expectations and staying grounded
Janka started her search for a job in Denmark with realistic expectations. She knew it would be challenging to find a student job to fit her experiences and studies.
Her first step was not to set too high expectations.
"I already have 8 years' experience in quality engineering, and I know this type of job requires everyday presence in the company and capability to speak the native language. In my new study field, I have no experience, and I know it is the same in all countries: Finding a job without experience is difficult."
The second step was to stay grounded and think practically.
She had to support herself financially, so she decided to apply for any part time position she could – from cleaning jobs to engineering positions. This did not mean that her goals would change.
"Of course, my expectations after graduation are higher. During my time at AAU, I am participating in several events to make myself more fit to the Danish labour market. For instance, I am learning Danish, getting to know the culture, and building a network."
Next: Job fairs and network
The steps Janka had to take next were the hardest because she stumbled upon many challenges.
Even though she went personally to hotels, restaurants, and contacted cleaning companies, she did not get a student job. The people who got the jobs were often coming in by recommendation, and she did not have a big network being new in Denmark.
"I contacted my ex-colleagues who work in Denmark to be referred for engineer jobs. However, those positions were full-time positions in the Copenhagen region. That was not in my scope due to my studies in Aalborg."
However, she learned a lot from attending job fairs:
"I realized that everyone can speak English, but without Danish language knowledge it is difficult to find a job in the northern region. However, I found a company who was open to tackle with an international student without Danish knowledge. We had multiple conversations about an intern position, however in the end, the company had to change their plans and accepting an intern was no more possible."
"Finally, I found a job as a morning deliverer. I was happy because I found a job, but I was tired because I had to wake up at 3 a.m. and ride bike 30 km per day. It was physical demanding, but I was relieved because the financial pressure has decreased. I was able to look for a better opportunity with new impetus."
The solution came as a surprise
Then Janka got an e-mail from a company.
"They had received my CV from "Hjørring Erhvervcenter" and he thought it could be very useful that we had a short talk. I still don't know how my CV went to Hjørring business center, because I mainly focused on the jobs in Aalborg and a maximum of one and a half hours travel distance from Aalborg. Nevertheless, I am glad that my CV was sent to them. I called them and we agreed to have a personal interview."
The next step was the personal interview, which was at the production site in Løkken, north of Aalborg.
"It was a 2,5 hours trip to get there, which was a bit shocking. However, it was nice to see the guys who started a business not too long time ago. They showed me the production plant, and they were honest. They told me that the job would be physically demanding as a production worker. But they were also planning to create the quality system which will be my responsibility in time. They need help developing the production system and ensuring quality and performance from the product derived from it."
She liked their plans and attitude, so after a second interview, Janka accepted their job offer.
Finding the bright side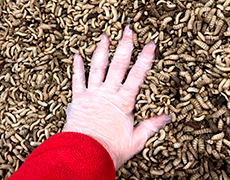 She took into consideration that the commute to the job was 5 hours per day and decided to find the bright side and spend the time usefully by working on her semester project and reading articles. However, the commute turned out not to be a challenge anyway.
"When we organised my first workday, they told me that they live in Aalborg. So they pick me up close to my home and I can go with them by car. We talk a lot during the trip, both about corporate and personal matters. It is nice because there is no time for a relaxed coffee break during working hours."
Based on her experiences, Janka has 2 pieces of advice for you:
Be open for any kind of positions even if it is far away – maybe it will lead to your dream job.
Don't write off jobs outside of the city. The public transportation in Denmark is great, and the travelling time can be spent usefully so don't be scared!

About Janka Kelényi
Age: 32 yearsold
Nationality: Hungarian
Study programme: Water and environmental engineer at AAU in Aalborg
Semest: 9th semester
Job: Production worker and quality consultant at Entomass