Admitting failure
Writing your final paper is one of the most rewarding experiences, but also one of the most stressful periods too, as it marks the culmination of your studies. During moments of happiness, we like to share our success with those close to us, but what do we do when we fail?
When Nikolas found out that he failed, it was hard to admit:
"I couldn't believe that I had failed. After the initial shock and realising what just had happened, I was very disappointed and tried to find something or someone to blame for it. But in the end, I was the only person to blame".
The first instinct was to find excuses and put the blame on different external factors and he admits it was hard to break the news to family and friends, as it was not something he was proud of. And while telling his close ones the news was not easy, seeing his classmates who graduated happy, was even harder for Nikolas. But this did not make him give up. It made him more ambitious, on the contrary.
Once he let his feelings sink in, Nikolas realised he learned much more from the outcome than he initially thought:
"Don't slack off before something is done and don't underestimate the effort of a project like a master's thesis. If I hadn't underestimated the workload and had managed my time better the first time, I maybe wouldn't have failed. It is important to be realistic about the amount of work you need to put into a project and be disciplined enough to see the project through".
Doing things differently
The second time around, Nikolas applied what he had learned.
"The supervisor plays a very important role in the thesis. However, even the best supervisor can only fully support you if you are transparent with them. It is no use telling the supervisor what you think they want to hear".
One of the most important things he did, this time around, was to ask for feedback and take it constructively.
Asking for his supervisor's opinion, but also listening, understanding, and implementing feedback, got Nikolas to work in a disciplined manner and put more effort into his work. Asking for feedback shows that Nikolas wanted to improve and was committed this time around to pass the master's thesis exam.
Words for the future
In closing, Nikolas encourages you to:
"Firstly, you should not take the thesis lightly. It is the final assignment to earn your degree. Treat it accordingly. Secondly, failure isn't the end of the world. We hear every day about famous people that first had to fail to become successful. I know I'm not telling you anything new, but failure is something to learn from to improve and thus the key to success. When you fail, try to get some distance, take responsibility, and then shake it off and do it better next time".
The teachings Nikolas applied for his second attempt made him realize that these can be applied in his job search and daily life as well. He learned that working towards your goals or projects can be overwhelming at first, but once you learn to manage time better and work in a disciplined and efficient manner, you realize that they are achievable.
After having learned from it, Nikolas decided to share the news of failing – and what he learned from it – with his LinkedIn network. It took courage but he wanted to be vulnerable and honest about his experience and show that even a failure can take a different turn and that we can always learn from these situations.
The career counsellor's comments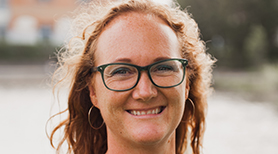 Career counsellor at AAU Career Lotte Burholt Pedersen stresses that it's normal to fail:
"We cannot go through life without failing once in a while – quotes like "Failure is not an option!" is not beneficial for the human growth. Actually, failing often gives you insight in yourself such as strengths and weaknesses which enable you to work differently and harder next time."
Actually, just recently she saw a question question about this from a company hiring: "The lessons we learn from obstacles we encounter can be fundamental for our later success. Recall a situation where you faced a challenge, setback, or failure. How did it affect you, how did you handle it, and what did you learn from the experience?"
Lotte emphasises that this is a good example of why you need to reflect on your failures and be able to describe what you learn from this: "Your reflections tell a lot about yourself as a person, and you need to show your personality to future employers."

About Nikolas Alexiadis
Age: 27 years old
Education: M.Sc. International Marketing at AAU in Aalborg
Year of graduation: 2021
Job: Marketing Specialist at Appetite Creative in Madrid